Research Project:
Enon Regular Baptist Church of Nauvoo, Illinois

Enon Church was organized in or near Nauvoo, probably in the year 1845. Records of Salem Association show that the membership of Shiloh Church on St. Marys Prairie decreased from 15 in 1844 to 9 in 1845, and some of those members probably organized Enon Church. Enon Church sent Elder John Harper and Bro. Wm. S. Wright as her messengers to request admission to the Des Moines River Regular Baptist Association in August 1849, at which time the church reported a membership of 10. Elder Thomas H. Owen and his wife Mary had moved to Nauvoo in 1846. Elder Thomas H. Owen served as postmaster at Nauvoo for about two years; in 1849, he left for California. In 1851, Elder John Harper moved to Marion County, Iowa, and Enon Church dissolved by mutual consent. The names of members which are known include Elder John Harper and his wife Mary, Elder Thomas H. Owen and wife Mary, William S. Wright and wife Sarah, and Johnson Wright. There were a few others whose names are not known.

A notice appeared in the "Signs of the Times," August 1846 issue, which said, "Elder Thomas H. Owen has removed from De Kalb, Hancock County, Ill., to Nauvoo, same county and state, and wishes his correspondents to address him at the latter place."


Questions:

1. Where did the church meet?
2. Where did the members live?


1849 Minutes of the Des Moines River Regular Baptist Association.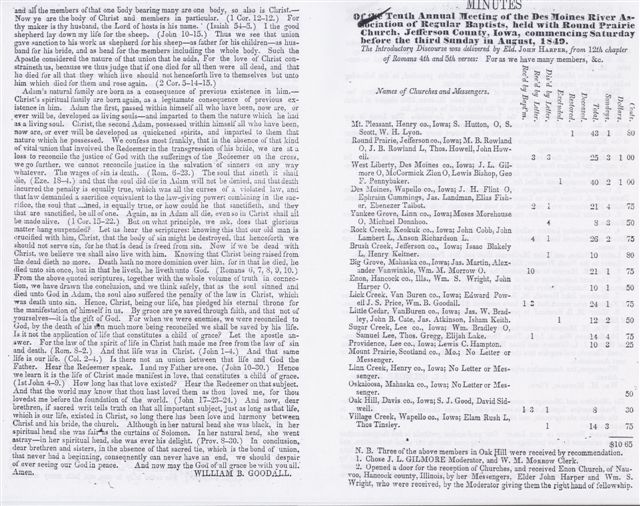 Front side (pages 1 and 4) above.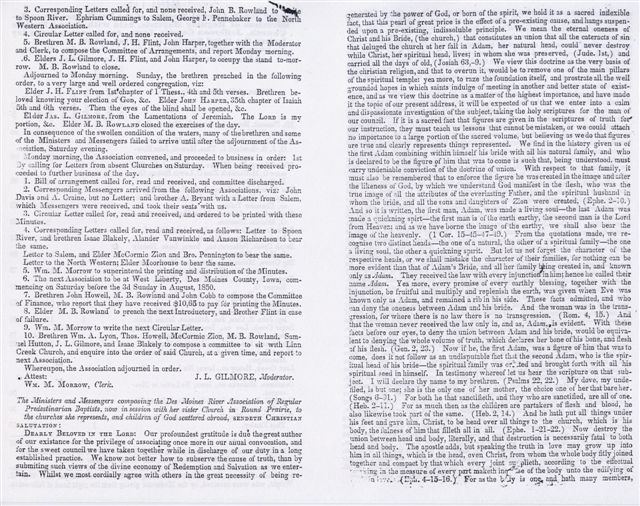 Back side (pages 2 and 3) above.
Copyright c. 2005-2006. All rights reserved. The Primitive Baptist Library.
---